It is frustrating to have so many daily activities become or be restrictive to a handicapped person's needs. When building or buying for someone with limited mobility or a handicap, here are a couple of common things to consider.
You are unable to enter a building because they don't have handicap accessible entrances. The building would be required to create a wheelchair ramp and provide an automatic opening door, either with the use of a sensor or a button.
Handicap Accessible Environments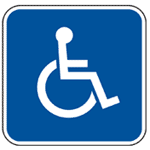 Not able to enjoy a relaxing bath because of the bathtub's design. The solution is the handicap accessible, Walk In Tubs. Instead of climbing or stepping into a tub, you can open the door, sit down and pivot your body. Then close the tub door. Walk In Tubs are especially good for people who have knee problems or recently had hip surgery. You can also install a handicap shower as an alternative.
It is especially disheartening when a child is unable to play in park because it is not a handicap playground friendly environment. The key is to create a lowered environment where children on wheelchairs can reach the playground equipment, have ramps everywhere and limit obstacles.
These are just a starting point in creating a handicap accessible lifestyle.