When you've lived in your home comfortably for years, it is heartbreaking to leave it due to a new handicap or disability. Walking the stairs becomes excruciatingly painful and many stop going to their second floors. Regular handicapped equipment like canes and crutches do not solve the problem. Elderly people have experienced this situation and left their memories behind. A stair lift can allow you to continue living independently.
Handicap Lifts for the Elderly
Perhaps one of the greatest gifts that a person growing old in their home can get is to have the chance to remain in their home regardless of their aging bodies. Stair lifts for the elderly can make it possible to sleep in your upstairs bedroom and come down to the kitchen for a hot cup of coffee in the morning. All this is possible without the additional assistance of a caregiver.
Remain in the home you love regardless of the changes in your life. There is some installation involved and your insurance may cover most of the costs. No more climbing of the stairs. You can get from the 1st floor to the 2nd floor while being seated in a comfortable chair.
How to Make a Stairway Handicap Accessible
A stair lift will allow you to make your stairway wheelchair accessible or handicap accessible. The style of stair lifts for handicapped that you decide on will be determined by the space available and how the stairway is designed.
Before you consider installing a handicap lift, you need to make sure the stair chair can support your weight. There are lift chairs available that can support 300 or more pounds. You also have to consider the width and design of the stairway. Stairlifts for narrow stairs can fit stairways as small as 2 feet. There are also custom built curved stair lifts for curved stairways.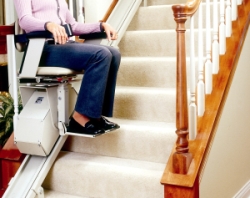 Some stair lift chairs are also designed to be easily foldable and removed from the stairs when not in use. Since stair lift use batteries, make sure to have an accessible electrical plug nearby for recharging. It's important to have power in the stair lift even in electrical outage emergencies. The installation time for stairway lift will only take 2-3 hours for a homeowner.

Stairlift Reviews
| Type of Stairlifts | Price | Cost Reasoning |
| --- | --- | --- |
| Straight Stairlifts | $2000-$4000 | Requires least amount of customization and is easily installed. |
| Curved Stairlifts | $7000-$15000 | Custom built based around your staircase measurements. |
| Used Stairlifts | < $1000-$2000 | 25% cheaper than new stairlift. Price over quality. |
| Stairlift Rentals | $100-$300/mo | Deposit upfront. Liable for damages. Rent for the first month. |